What's your ideal body image?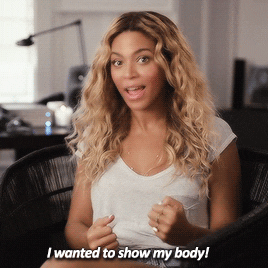 Isn't this something that's quite often our struggle ladies?
Well, i am just wondering what are your preferred body images? I mention images because body types are probably what you have but image is the outlook which you want to get or achieve (apart from the dressing).
Say, for example, most of us already are a pear shape. Would you want to be more built? Or curvy but lean or a little toned? Do you just want to have abs or a whole body tone or you prefer to really look tonely tight (with strict diets)?
My Body
For me, my body type is somewhat lean hourglass. But i do gain and lose weight easily (which makes it hard to maintain). I ever was slightly overweight and one time became underweight. I've tried different methods since i was in school. Trying different diets, taking the herbalife shakes etc and nothing makes me happy. I did not get the body image i wanted. Even when i was healthy but i look frail or probably skinnier (although i had some muscles showing). 
After i got married and had my first pregnancy, i gained 11kg. It took me 3 weeks  post-delivery to get back to size but still need lots of working out and good nutrients to get back the toned look. And currently, 2yrs later, 
I'm on my second pregnancy. It seems i am gaining a lot more this time round. I get a little anxious honestly. Im afraid if it would be more difficult for me to get back in shape because of my hectic schedule with my toddler and a newborn. So, i asked my husband, what would be an ideal image of a woman to an average man? He said "you don't have to be too toned or muscular. We still prefer curvy but not too skinny or too oversized. just healthy looking. even if you're toned and fit but look skinny, curvy will still be a better choice". Ok, that's my husband's opinion. Maybe the other guys could be different. I did asked my circle of guy friends' opinions too and they said the same as well.

But guys and girls have different thoughts about their looks. So ladies, just wonder if you would share with me what is your preferred body image/look? 

I have always been active. I took up Taekwondo in primary school, got into Netball in high school, joined Dragon Boat and Karate in Tertiary. And the list goes on. I love to try new sports to see how it will help me with my body image. Back then, i wanted to be really built and toned. I hit the gym a lot. But was not really disciplined when it comes to my food. Well, i do get my 6 packs but i don't feel that healthy. As i grow older, i figured that i wanted to be healthy inside out. I wanted to have good posture, good core and good elasticity of my skin because i know this will be the basics for a healthy me in years to come (I'm in my mid 30's). I do not want to keep working out without proper form. (You know sometimes having 6 packs doesn't necessarily means you have a strong core cuz it's just a superficial layer of your muscle). So, i came to know pilates and i use the techniques for my other sports and fitness. On top of that, i upgraded myself to learn more on rehab and other therapy methods that will compliment my fitness knowledge and soon, i hope to learn more on nutrients that balance everything else. 

These are my thoughts on my body image. I just want to have a flatter toned tummy after pregnancy (i wouldn't lie...im a woman to! lol) and i wanted to have an overall toned look but not too crazy. Still curvy and looking healthy inside out :)
 
I have experimented on myself on getting to the right look i wanted after my first pregnancy. With certain foods and excercises. Of course, my main workout is doing PILATES! Do let me know what you think because your opinion matters. :) Come chat with me if you want further advise on my programmes. 
You can get to me through my email at hello@pilateswithyasmin.sg or visit my instagram: Pilates_With_Yasmin to view my older workout videos. If not, you can always link to my youtube channel in this website. 
Hope to hear from you soon!
Cheers!
xoxo



Please reload